If you are struggling to potty train your dog or teach him new tricks, dog training bells might be the answer to your problems. Many pet owners have used these bells as a successful method for communicating with their furry friends.
Dog training bells are simple but efficient tools that can help you teach your dog important commands and behaviors.
In this blog post, we will explore what dog training bells are, how they work, and how you can use them to improve your dog's training.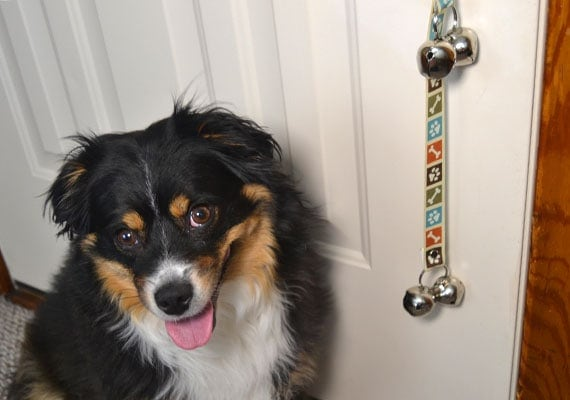 What are Dog Training Bells?
Dog training bells are bells that are specifically designed to help pets communicate their needs.
They are typically made with a loop that hangs on a doorknob, and when the dog needs to go outside, they can ring the bell for their owner to hear.
Dog training bells can be made from a variety of materials such as metal or plastic, and they come in different sizes and colors to suit different breeds and preferences.
How do you Train Your Dog to Use Bells?
Training your dog to use bells is a simple process that involves positive reinforcement. Begin by hanging the bell on the door that leads outside, so your dog becomes familiar with it.
Every time you take your dog outside, ring the bell and say "outside." Eventually, your dog will learn to associate the sound of the bell with going outside.
Make sure to praise your dog and give them a treat every time they ring the bell on their own. Repeat this process until your dog consistently rings the bell when they need to go outside.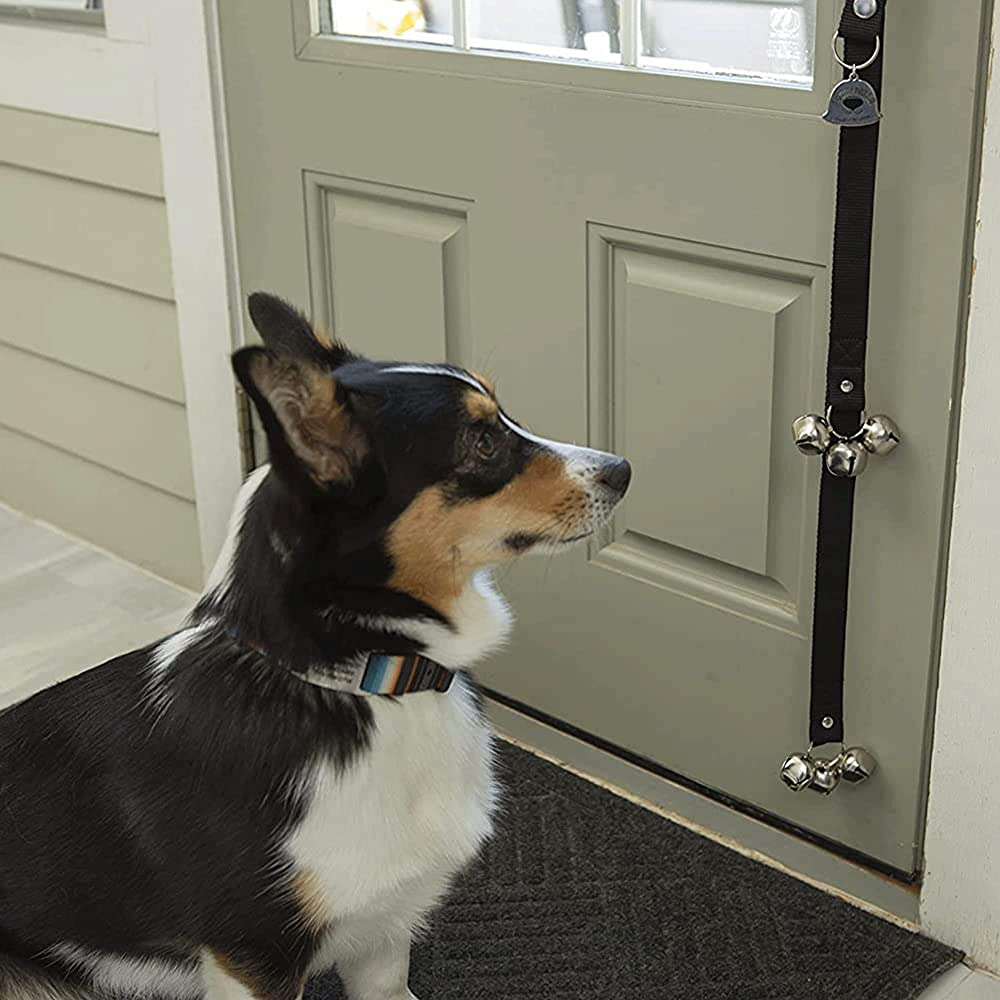 How to Use Dog Training Bells for Potty Training
Potty training a dog can be a challenging task, but there are tools and tricks that can make it easier. One of the most effective tools is a set of dog training bells that can be hung on the door handle or nearby the exit.
These bells teach your dog to associate the sound of bell ringing to going outside to do their business. We're going to explore the benefits of using dog training bells, and give a step-by-step guide on how to use them for potty training.
Benefits of Using Dog Training Bells
There are a number of advantages to using dog training bells for potty training.
Firstly, they teach your dog to communicate with you when they need to go outside. This can help prevent accidents and reduce the stress of trying to anticipate when your dog needs to go potty.
Secondly, they help establish a routine for your dog, which is essential for successful potty training.
Lastly, the use of the bells can also improve your dog's confidence and independence, as they learn to take the lead in telling you when they need to go outside.
Step-by-Step Guide to Using Dog Training Bells For Potty Training
Hang the bells on or near the door handle that you use to take your dog outside.
Make sure to be aware of your dog's height. For your dog to ring the bells for potty training they have to be able to reach it. Large dogs can have the dog potty bells higher, while small dogs need the potty training bells to be lower.
Ring the bells yourself several times throughout the day and always just before taking your dog outside. Let your dog hear and see the bells ringing every time.
When ringing the potty bell, make sure to have your dog leash in your hand for the first few weeks.
When you notice that your dog is barking, pawing at the door or showing signs of needing to go outside, help them ring the bells by gently tapping or guiding their nose or paw towards the bells.
Say a command like "go potty" or "outside" and bring your dog outside immediately after ringing the bells.
Always reward your dog with praise and a treats when they do their business outside.
Training Tips and Tricks
Remember, training your dog to use the potty time bells will take time and patience. It's important to remain consistent, maintain a positive and calm demeanor, and be attentive to your dog's signals.
Here are some additional tips to make the training process smoother:
Practice with the bells every time you take your dog outside.
Don't let your dog out just because they're ringing the bell out of boredom. They must have a real need.
Keep your dog within your sight during the training period so you can quickly respond to them ringing the bells. You want to be able to easily hear the jingle sounds.
If your dog isn't responding well to the training, take a break and try again later.
Other Uses of Dog Training Bells
Dog training bells can also be used to teach your dog other commands, such as asking for water or food.
Simply place the bell near their food or water bowl, and every time you give them water or food, ring the bell. Your dog will soon recognize that when the bell is rung, it's time for food or water.
Tips for Using Dog Training Bells
Make sure to choose a bell that suits your dog's size and personality. Some dogs may prefer a certain type of bell, while others may not like the sound of certain bells.
Also, keep in mind that using dog training bells is not a substitute for proper house training. Make sure to properly train your dog to go outside and use the bathroom before relying on bells to communicate their needs.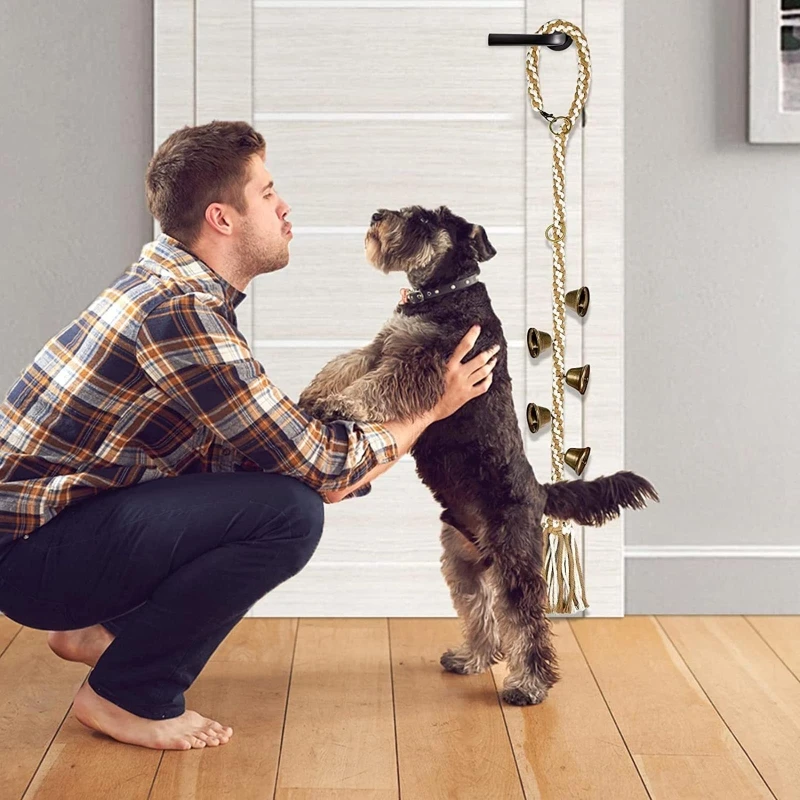 Tips to Have a Potty Trained Dog (Other Than Using Dog Bells)
Getting started with potty training your furry friend is a huge accomplishment, but it's also a daunting task. Dogs of all ages can benefit from potty training, but it takes a lot of patience, dedication, and consistency. A potty trained dog is essential for the overall sanity of your home and your pet's well-being.
Set a Routine for Your Pet
Dogs love routine, so establish a routine that works best for both you and your pet. Take them outside first thing in the morning, before and after meals, and before bedtime. This will teach your dog that it's time to go potty and will help them know what to expect.
Reward Good Behavior
Dogs love rewards and will work hard to get them. When your pet goes potty in the right spot, reward them with praise, treats, and positive attention. When they have an accident, avoid punishment or negative reinforcement. Instead, focus on positive reinforcement techniques.
Supervise Your Pet
Keep a close eye on your pet during the training process to ensure that they have the opportunity to go potty outside. If you need to leave your home, consider confining your dog to one area. This will reduce the likelihood of accidents.
Consistency is Key
Stick to your routine, reward good behavior, and keep a watchful eye on your pet. With time, your pet will learn where to go and what to do, but staying consistent is vital. Don't let your guard down and always be patient with your pet.
Use Puppy Pads or Crate Training
If you're struggling with the training process, consider using puppy pads or crate training. Puppy pads are a great way to train your dog to go potty in a specific spot, while crate training can help prevent accidents when you're away from home.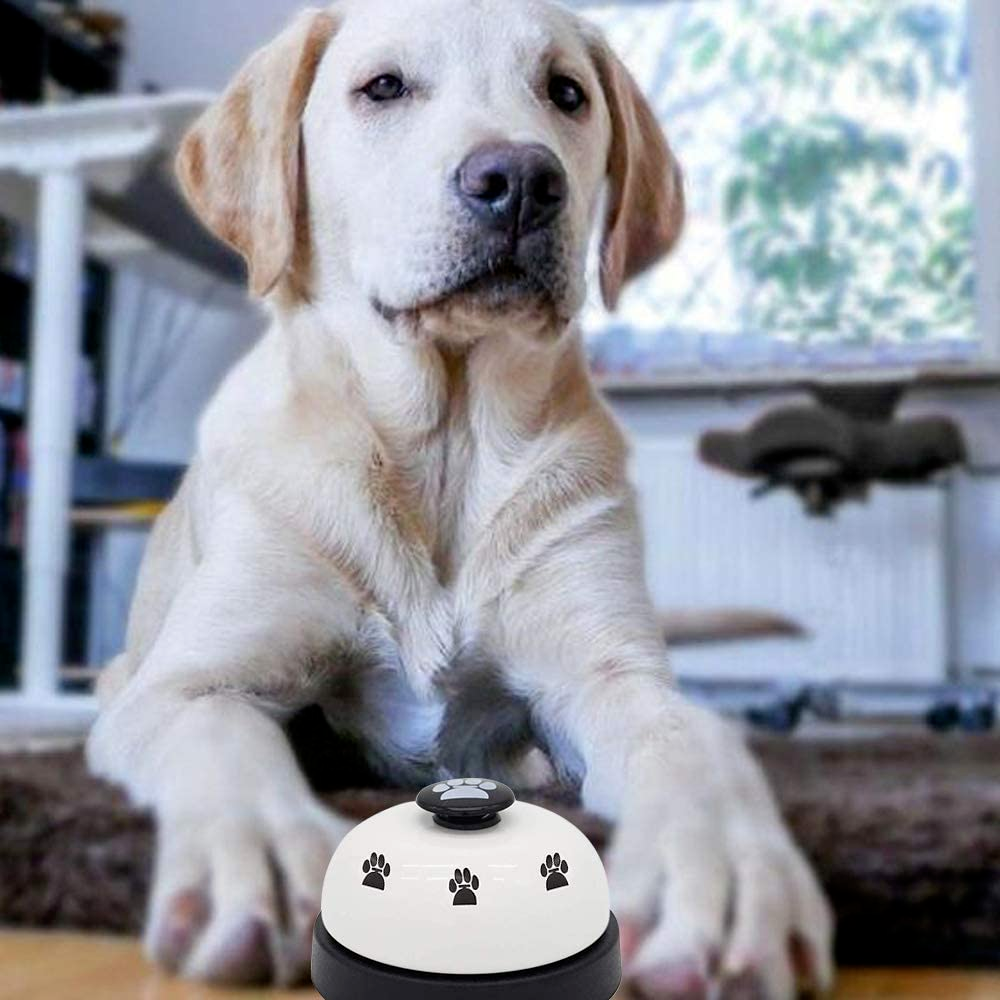 You Can Also Use a Dog Doorbell
Training your dog where to go potty can sometimes be a challenge. However, the introduction of dog doorbells has become a game-changer that makes the process easier. Unlike the traditional potty training bells, dog doorbells are designed to be more efficient and specialized to meet your dog's needs. Anytime your dog rings the dog doorbells, it indicates to you that it is time to go outside. This makes potty training a breeze, especially for new pet owners. With dog doorbells, you can be sure that most dogs will quickly learn where and when it's appropriate to go potty.
Professional Dog Training is Always an Option!
Potty training a new puppy can be a daunting task for any pet owner. Whether you're a first-time dog owner or an experienced one, sometimes it takes a little extra help to get your furry friend on the right track.
That's where professional dog training comes in! Professional dog trainers have spent years studying dog behavior and know exactly how to guide your pup through the potty training process.
Plus, you'll have the peace of mind knowing that your pup is getting the best care possible. That's where Ruff House dog training can help you! We can help with all your dog training needs. So don't stress if you're having trouble potty training your new pup – reach out to a professional and get the help you need!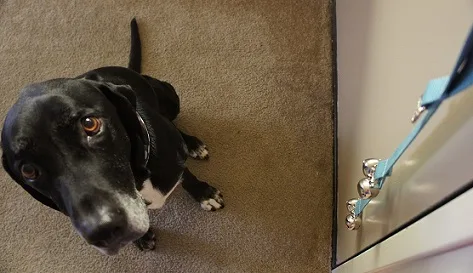 Conclusion
Dog training bells are a useful tool for pet owners who want to improve communication with their furry friends. By following simple training techniques, you can teach your dog to use the bell effectively and enhance their daily lives.
The benefits of dog training bells go beyond just communication, as they also improve your pet's independence and reduce accidents in the house. Ultimately, dog training bells can offer more than you can even imagine, if you've never used them.
Why wouldn't you want to better the quality of the relationship your furry friend has with going potty? So, if you're struggling with potty training or just want to improve your pet's communication skills, consider using a dog training bell as a helpful aid. Be sure to have fun when teaching your pup!